Interactive Livestream
The only integrated Live and On-Demand solution for the Gladstone system. It includes a built in payment engine, intelligent purchase-psychology and product-nudging to offer blended digital classes that grow participation and maintain a revenue stream

What makes this solution different?
Community
Building community support for your local instructors and venues is the driver for customer engagement and income.
Community
Valued
Your community values your instructor's time and engagement far more than on-demand content.
Valued
Engagement
Requires limited marketing as your instructors engage their community and attract new members.
Engagement
Secure
You have full central control over who is accessing your classes, to protect revenue, insurance, music rights and avoid misuse.
Secure
Insights
Pay as you go or subscription models with full control over pricing.
Insights
Freedom
No constraints on class sizes, customer reach and therefore revenue.
Freedom
Simple
Easy to set up in less than a day. Full training, guides, and tips provided to help your team get started.
Simple

Start Live Streaming Today
Open the revenue tap to your club again and take your share of the at-home fitness market as it starts to flourish.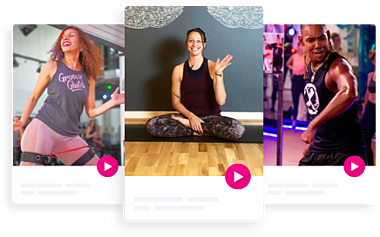 Why get started?
Stay connected with your customers so they return to your venue when it reopens
Help customers to maintain exercise routines and social connections
Help differentiate your fitness brand from on-demand content now available